Moments of Celebrations, Festivals & other Days
Latest updated on: 25-02-2021
February 2020:
National Excise Day:

24 February, Central excise day is celebrated all over India on 24th February to instill a sense of oneness and sincerity in service amongst officers of the Excise Department and to help public to ensure better tax compliance. The day marks enactment of the Central Excise and Salt Act, 1944.

Khajuraho Dance Festival:

started(23 Feb). Khajuraho lies in M.P. & was the capital of Chandel Dynasty.

World Thinking Day:

22 February.
World Day of Social Justice:

20 February. •

International Mother Language Day:

21 February.

•

National Soil Health Card Day:

19 February.
World Penguin Day:

20 February.
Chhatrapati Shivaji Jayanti:

celebrated on 19 February.
​​​​​​​
India Toy Fair:

will be held between 27 February to 2 March 2o21, it will be held on a virtual platform, it is an effort to give a boost to

India's Indigenous Toy Industry,

via "

Atamnirbhar Policy"

to encourge & promote home grown toy industry with an aim to help India explore the rich heritage of locally-made toys.
​​​​​​​
Maharaja Suheldev Memorial:

to be built by Uttar Pradesh Government in

Bahraich.
​​​​​​​
International Sarasvati Festival:

organised by Govt. of Haryana State at Adi Badri (It is said that Sarasvati originated from Adi Badri) in Yamunanagar District of Haryana.

National Productivity Week:

12 February to 18 February.

National Productivity Day:

12 February,

The National Productivity Day is annually observed across India on 12th February to create awareness about productivity, that maximum output with optimum utilization of resources can be planned and achieved. The day is organised by the National Productivity Council, National Productivity Council under the Ministry of Commerce and Industry Government of India is a premier institution for propagating productivity movement in India.
National Women's Day:

celebrated in India on

13 February,

The day holds great importance in India's history. It is celebrated to recognise the powerful voices of women. National Women's day is celebrated on Sarojini Naidu's birthday.

It should be noted that International Women's day:

is celebrated on 8th March.
Samarpan Diwas:

11 February

, the Samarpan Diwas is the death anniversary of Deen Dayal Upadhyaya, he was the president of Bharatiya Jana Sangh (BJS). Apart from politics he also contributes to Indian literature. Bharatiya Jana Sangh (BJS) is the forerunner of the Bharatiya Janata Party (BJP). He is a revered icon of Integral Humanism, an ideologue, and a guiding force for an alternative model of governance and politics.

Deendayal Upadhyaya (25 September 1916 – 11 February 1968) was one of the leading Indian philosopher, economist, sociologist, historian, journalist, and political scientist gave the concept and developed the doctrine of integral humanism. To spread Hindutva idealogy he started the monthly publication Rashtra Dharma in the 1940s, while involved with the RSS. Integral humanism was a set of concepts drafted by Upadhyaya as a political program and adopted in 1965 as the official doctrine of the Jan Sangh
International Day of Women & Girls in Science:

11 February.

World Unani Medicine Day:

11 February.

World's largest religious gathering:

was recorded at Kumbh Mela of Prayagraj in 2019, that was a gathering of approximately 120 million people.
World Pulses Day:

10 February. It is opportunity to raise awareness & recognize the contribution of pulses to sustain food systems & healthy diets.

#Theme: Love Pulses.
​​​​​​​
A 100 feet Tricolor in Gulmarg:

Indian Army laid foundation for the 100 feet National flag Tricolor in Gulmarg (J & K).
​​​​​​​
AIR music conference:

has been renamed as

"Pandit Bhim Sen Joshi".
Mandu Festival(3rd edition):

This festival is organized in Mandu,

the historic fort city of

Madhya Pradesh, organized by

Madhya Pradesh Tourism Board.

This celebration was started in 2019.
National Horticulture Fair 2020:

The ICAR-Indian Institute of Horticultural Research, Hesaraghatta, Bengaluru is organizing National Horticulture Fair-2021 during 8-12 February, 2021 i

13th edition of 'Aero-India':

Being organized at Air Force Station, Yelahanka(a suburb of Bangalore).
International Day of Human Fraternity:

04 February.

World Cancer Day:

04 February.

Theme:

"I am & I will".

"Chauri-Chaura incident Remembered":

This incident occurred on 4 February, This event gave the Indian Freedom Struggle, a Revolutionary tinge.

Float Festival:

Float Festival is one of the main festivals celebrated in Madurai. It takes place on the full moon night of the Tamil month, Thai, which falls between mid January and mid February. The concept of the festival dates back to the 17th century, when it was celebrated for the first time by King Thirumalai Nayak. He constructed an artificial tank and then, built a temple of Lord Vigneswara on the island in the middle. He started the custom of taking the idols for a boat ride in the tank, on his birthday. This is how the Float festival came into existence.
​​​​​January 2021:
World Neglected Tropical Disease Day:

30 January.

U.P.'s tableau adjuged the best

:

in Republic Day celebration at Rajpath. This tableau depicting the Ram Temple at this year's Republic Day parade in New Delhi was adjudged the best and awarded by Union minister Kiren Rijiju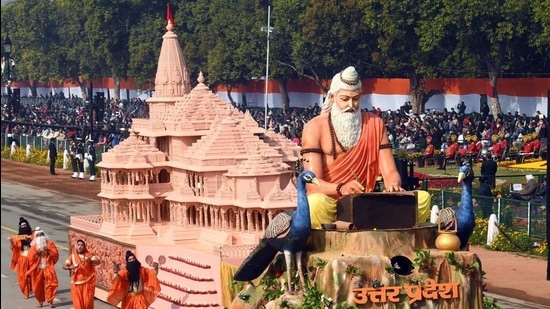 World Neglected Tropical Diseases Day:

30 January.

Birth Anniversary of Lala Lajpat Rai"

28 January.
International Holocaust Remembrance Day 2021:

27 January, January 27, 2021, marked 76 years since the liberation of survivors from Auschwitz-Birkenau, the largest Nazi concentration and death camp. In 2005, the UN declared the day the International Holocaust Remembrance Day. Theme of the day this year is

"Be the light in the Darkness".
"Bharat Parv (India Festival) 2021":

a virtual national festival showcasing the country's diverse culture, cuisines and handicrafts. The Ministry of Tourism in collaboration with other central Ministries is organizing this year a virtual 'Bharat Parv' event from 26th to 31st January 2021, showcasing the spirit of 'Ek Bharat Shreshtha Bharat'.
International Customs Day:

Annually held on January 26, International Customs Day (ICD) recognizes the role of custom officials and agencies in maintaining border security.
"Into the Darkness":

this very Danish film got

"

The Golden Peacock Award"

in the 51st

International Film Festival of India (IFFI)

organized in Goa.

The pic given below shows one scene from the said Film :
Indian Republic Day:

26 January, It was 72nd Republic day.
​​​​​​
International Education Day:

24 January.

•

U.P. foundation day:

24 January

•

National Tourism Day

25 January.

•

Himachal Pradesh Statehood Day:

25 January.

24th 'Hoonar Haat':

was organized in Lucknow.

National Voters Day:

25 January.

Toshali Craft Fair:

is held annually in Bhubaneshwar(Odisha). Toshali Crafts Mela has transformed into one of the most popular handloom and handicrafts fairs in Eastern India.
"National Girl Child Day":

24 January,
To reaffirm the importance of a Girl child A girl (Srishti Aggarwal) from Uttarakhand adorned the seat of C.M. of the state, symbolically, thus, she is the 1st woman CM of the state.
"Prakaram Diwas(the valour day):

on 23rd January 2021, the 145th birth anniversary of Subhash Chandra Bose.
Eco Retreat Festival: Celebrated in Odisha. A festival welcoming the beauty hidden in the unexplored Odisha. An indulgence of local cuisines to make you relish unbelievable delicacies. Eco Retreat Odisha - A celebration of the mesmeric sea. A revelry of nature's bounties. A carnival of ancient culture. An indulgence of local cuisines. Also, known for 'glamping' ! Odisha Govt. is organizing its 2nd Edition.
India Meteorological Department: celebrated its 146th foundation day on 15 January 2021, it was founded in 1875.
Indian Army Day: 15 January
Veteran Day of Indian Army: 14 January.
Veteran Day of Indian Army: 14 January.
National Road Safety Month: 18 January to 17 February.
National Road Safety week: 11 January to 17 January.
National Youth Day: 12 January, on birth anniversary of Swami Vivekanand.
World Hindi Day: 10 January. It should be noted that National Hindi Day is on 14 September.

Pravasi Bharatiya Divas: Pravasi Bharatiya Divas is a celebratory day observed on 9 January by the Republic of India to mark the contribution of the overseas Indian community towards the development of India. The day commemorates the return of Mahatma Gandhi from South Africa to Mumbai on 9 January 1915. At 09 January 2021 that was 16th NRI day celebration.
World Day for War Orphan

: 06 January;
"Savitribai Phule Anniversary": 03 January, Savitribai Phule was an Indian social reformer, educationalist, and poet from Maharashtra. She is regarded as the first female teacher of India. Along with her husband, Jyotirao Phule, she played an important and vital role in improving women's rights in India. She is regarded as the mother of Indian feminism.